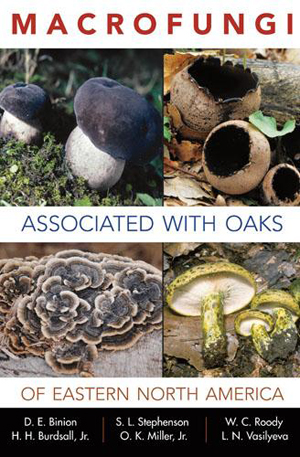 Denise Binion,
Steve Stephenson,
William Roody,
Harold H. Burdsall, Jr.,
Orson K. Miller, Jr.,
& Larissa Vasilyeva
2008
468pp
PB 978-1-933202-36-5
$44.95
Summary
Macrofungi Associated with Oaks of Eastern North America, which was written as a companion to Field Guide to Oak Species of Eastern North America, represents the first major publication devoted exclusively to the macrofungi that occur in association with oak trees in the forests of eastern North America. The macrofungi covered in this volume include many of the more common examples of the three groups—mycorrhizal fungi, decomposers, and pathogens—that are ecologically important to the forest ecosystems in which oaks occur. More than 200 species of macrofungi are described and illustrated via vibrantly colored photographs. Information is given on edibility, medicinal properties, and other novel uses as well. This publication reflects the combined expertise of six mycologists on the macrofungi anyone would be likely to encounter in an oak forest.
2008 ForeWord Magazine Book of the Year Award Finalist
Contents
Acknowledgements
Introduction
Oak Forests in Eastern North America
Taxonomic Groups
Basidiomycota
Ascomycota
Myxomycota
Mycorrhizal Species
Pathogens
Decomposers
Glossary
References
Muchroom Poisoning
General Index
Author
Dr. Steve Stephenson, who has also published Edible and Poisonous Mushrooms of the World and Myxomycetes of New Zealand, is a former Professor of Biology at Fairmont State University, West Virginia.
Introduced to fungi in 1995 by Stephenson, fellow author and information technology specialist, Denise Binion is the co-author of Field Guide to Native Oak Species of Eastern North America.
William Roody is currently documenting the distribution of macrofungi throughout West Virginia and works with the state's rare plants and animals.
Dr. Larissa Vasilyeva, a research scientist, has described 100 new species of the pyrenomycetous fungi, along with twenty new genera in this group.
Dr. Harold Burdsall Jr., a mycologist and former project leader, has been studying wood-inhabiting fungi for more than forty years and is currently a volunteer mycologist.
Dr. Orson K. Miller Jr., a former professor of botany at Virginia Polytechnic Institute and State University, has published more than 160 scientific manuscripts and eight books.
Reviews
"All mycologists and mycophiles east of the Rocky Mountains will find this book a tremendous asset when hitting the woods!"
John Plischke, Fungi Magazine