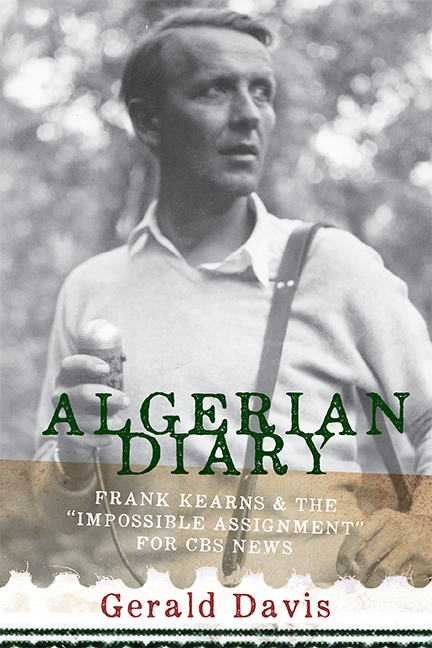 Gerald Davis
Foreword by Tom Fenton
March 2016
208pp
PB 978-1-933202-62-4
$19.99
epub 978-1-940425-76-4
$19.99
PDF 978-1-940425-75-7
$19.99
35 b/w images
Map
Appendix
Chronology
Glossary
Index
Summary
Frank Kearns was the go-to guy at CBS News for dangerous stories in Africa and the Middle East in the 1950s, '60s, and early '70s. By his own account, he was nearly killed 114 times. He took stories that nobody else wanted to cover and was challenged to get them on the air when nobody cared about this part of the world. But his stories were warning shots for conflicts that play out in the headlines today.
In 1957, Senator John Kennedy described America's view of the Algerian war for independence as the Eisenhower Administration's "head in the sand policy." So CBS News decided to find out what was really happening there and to determine where Algeria's war for independence fit into the game plan for the Cold War. They sent Frank Kearns to find out.
Kearns took with him cameraman Yousef ("Joe") Masraff and 400 pounds of gear, some of which they shed, and hiked with FLN escorts from Tunisia, across a wide "no-man's land," and into the Aures Mountains of eastern Algeria, where the war was bloodiest. They carried no passports or visas. They dressed as Algerians. They refused to bear weapons. And they knew that if captured, they would be executed and left in unmarked graves. But their job as journalists was to seek the truth whatever it might turn out to be.
This is Frank Kearns's diary.
Contents
A Note to the Reader
Foreword by Tom Fenton
Preface
1. A Small Office in Cairo
2. La Guerre d'Algerie
3. A Reporter's Journey to Algeria
4. "The Unrealistic or Impossible Assignment"
5. Algerian Diary
6. "Evidence of Considerable Interest"
Epilogue
Acknowledgments
Appendix: Sound on Film Scripts from Algeria
Chronology
Notes
Glossary
Bibliography
Index
About the Author
Author
Gerald Davis is the producer, writer, and director of Frank Kearns: American Correspondent, a one-hour documentary film developed by Greenbriar Group Films in association with West Virginia Public Broadcasting. A native of Elkins, West Virginia, Davis earned undergraduate and graduate degrees from the Reed College of Media at West Virginia University, where he was a student of Frank Kearns.
Tom Fenton reported nearly every major European and Middle Eastern story of the day, from the Islamic Revolution in Iran to the collapse of the Soviet Union and the wars in Afghanistan and Iraq, during his career as senior European correspondent for CBS News. He is the author of Bad News: The Decline of Reporting, the Business of News, and the Danger to Us All and Junk News: The Failure of the Media in the 21st Century.
Reviews
"This book offers a rare glimpse at a legendary journalist at work during the earliest days of TV. As if to make up for the lack of appreciation during Kearns' life, Davis offers a loving tribute to a fearless reporter."
Kirkus Reviews
"Frank Kearns was a fearless foreign correspondent—but was he also a spy? Gerald Davis has researched his subject exhaustively and provides here a richly detailed portrait of a brilliant, complex man. But he also lets Kearns speak for himself in his Algerian diary, a searing, compelling example of war reportage at its best."
Hugh Wilford, author of The Mighty Wurlitzer and America's Great Game
"In an era of journalism now where the model is more attuned to balderdash based on weak or invalid claims, Kearns's work stands as an honorable model of what good reporting is."
Terry Wimmer, Pulitzer Prize–winning reporter and editor, and professor of journalism at the University of Arizona
"A fine book about a fascinating individual doing cutting edge work in the early years of television war reporting."
Tom Herman, lawyer and filmmaker, former field producer for CNN and correspondent for NPR; his films include the feature Live from Baghdad and the documentary Dateline-Saigon
"Even though Kearns was technically a journalist, my father Miles Copeland Jr. and the rest of his CIA cronies were in awe of him, not just because of his derring-do, but because he looked the part."
Stewart Copeland, son of Miles Copeland Jr., CIA skulduggerist in the Levant; he remembers his father and Kearns chuckling mischievously together back in the day
"Here is an exciting, important book on Cold War journalism, focusing on reporter Frank Kearns and CBS News—the drama and danger are all there, but so too is the crucial ethical question, raised and described so well by Jerry Davis: should a reporter have cooperated with the US government in the global struggle against communism? The answer these days is a big no, but then, during the Cold War, professional judgments were often clouded and compromised. Read and learn, and then compare then with now."
Marvin Kalb, senior adviser of the Pulitzer Center, former CBS reporter, and author of Imperial Gamble: Putin, Ukraine and the new Cold War