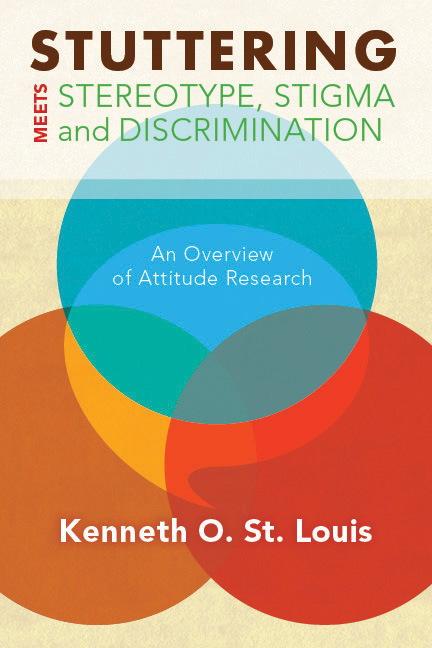 Edited by Kenneth O. St. Louis
West Virginia University Books: Volume 1
March 2015
384pp
PB 978-1-940425-39-9 $55.99
eBook 978-1-940425-37-5
$55.99
Summary
More than a century of research has sought to identify the causes of stut­tering, describe its nature, and enhance its clinical treatment. By contrast, studies directly focused upon public and professional attitudes toward stuttering began in the 1970s. Recent work has taken this research to new levels, including the development of standard attitude measures; ad­dressing the widely reported phenomena of teasing, bullying, and dis­crimination against people who stutter; and attempting to change public opinion toward stuttering to more accepting and sensitive levels.
Stuttering Meets Stereotype, Stigma, and Discrimination: An Overview of Attitude Research is the only reference work to date devoted entirely to the topic of stuttering attitudes. It features comprehensive review chapters by St. Louis, Boyle and Blood, Gabel, Langevin, and Abdalla; an annotated bibliography by Hughes; and experimental studies by other seasoned and new researchers. The book leads the reader through a maze of research efforts, emerging with a clear understanding of the important issues involved and ideas of where to go next. Importantly, the evidence base for stuttering attitude research extends beyond research in this fluency disorder to such areas as mental illness, obesity, and race. Thus, although of interest primarily to those who work, interact, or oth­erwise deal with stuttering, the book has potential for increasing under­standing, ameliorating negative attitudes, and informing research on any of a host of other stigmatized conditions.
Author
Kenneth O. St. Louis is a professor in the Department of Communication Sciences & Disorders at West Virginia University with 40 years of experience in teaching, treating, and researching fluency disorders. St. Louis is a cofounder of the International Fluency Association and the International Cluttering Association, with recognitions of ASHA Fellowship, the Deso Weiss Award for Excellence in cluttering, WVU's Benedum Distinguished Scholar Award, and WVU's Heebink Award for Outstanding Service to the State of West Virginia. In 1999, he founded the International Project on Attitudes Toward Human Attributes and has collaborated with numerous colleagues internationally on measuring public attitudes toward stuttering.