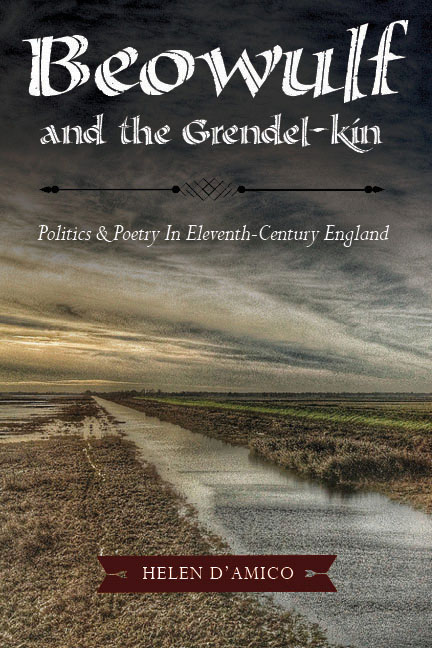 Helen Damico
January 2015
345pp
PB 978-1-938228-71-1
$49.99
ePub 978-1-938228-72-8
$49.99
PDF 978-1-938228-73-5
$49.99
Summary
In Beowulf and the Grendel-kin: Politics and Poetry in Eleventh-Century England, Helen Damico presents the first concentrated discussion of the initiatory two-thirds of Beowulf's 3,182 lines in the context of the sociopolitically turbulent years that composed the first half of the eleventh century in Anglo-Danish England.
Damico offers incisive arguments that major historical events and personages pertaining to the reign of Cnut and those of his sons recorded in the Anglo-Saxon Chronicle, the Encomium Emmae Reginae, and major continental and Scandinavian historical texts, hold striking parallels with events and personages found in at least eight vexing narrative units, as recorded by Scribe A in BL, Cotton Vitellius A.xv, that make up the poem's quasi sixth-century narrative concerning the fall of the legendary Scyldings.
Given the poet's compositional skill—widely relational and eclectic at its core—and his affinity with the practicing skalds, these strings of parallelisms could scarcely have been coincidental. Rather, Damico argues that examined within the context of other eleventh-century texts that either bemoaned or darkly satirized or obversely celebrated the rise of the Anglo-Danish realm, the Beowulfian units may bring forth a deeper understanding of the complexity of the poet's compositional process.
Damico illustrates the poet's use of the tools of his trade—compression, substitution, skillful encoding of character—to reinterpret and transform grave sociopolitical "facts" of history, to produce what may be characterized as a type of historical allegory, whereby two parallel narratives, one literal and another veiled are simultaneously operative.
Beowulf and the Grendel-kin lays out the story of Beowulf, not as a monster narrative nor a folklorish nor solely a legendary tale, but rather as a poem of its time, a historical allegory coping with and reconfiguring sociopolitical events of the first half of eleventh-century Anglo-Saxon England.
Author
Helen Damico is Professor Emerita of English Medieval Language and Literature at the University of New Mexico, where she was twice selected as Outstanding Teacher and honored as UNM Presidential Teaching Fellow. She is a founder of its Institute for Medieval Studies, a recipient of the New Mexico Humanities Award for Lifetime Contributions to the Humanities, and a member of The Medieval Academy of America and recipient of its CARA Award for Outstanding Service to Medieval Studies. She is also an Honorary Member of the International Society of Anglo-Saxonists. She edited the three volumes of Medieval Scholarship: Biographical Essays in the Formation of a Discipline and is the author of Beowulf's Wealhtheow and the Valkyrie Tradition.
Reviews
"Debate about the dating of Beowulf has raged among scholars for many years, and it shows no sign of abating. The suggestion advanced here, with control, commitment, and clarity, is that the poem incorporates passages that can be read as allegories or reflexes of the period beginning with the Viking raids on England in the late tenth century, leading to the Danish conquest in 1016, and, following Cnut's death in 1035, to the emergence of Queen Emma in a role that animates the joint and separate reigns of Harald Harefoot and Harthacnut. To say any more would be to spoil the ride. . ."
Simon Keynes, Elrington and Bosworth Professor of Anglo-Saxon, University of Cambridge
"Damico makes an elegant and thought-provoking case for Beowulf as a political allegory of late Anglo-Saxon England. She weaves a subtle argument for her provocative thesis, and in doing so she illuminates not only the poem but the eleventh-century world of Cnut, Emma, and their offspring, the original audience for Beowulf and perhaps its hidden subject."
R. M. Liuzza, University of Toronto
"Although paleographers have always included the early eleventh century in dating the script of the Beowulf manuscript, historians and literary scholars have studiously neglected this period in their otherwise wide-ranging theories on the composition of Beowulf. Now Helen Damico has bravely ventured forth with the first book-length study of how the historical context of the manuscript might have influenced the making of the epic poem. Thoroughly researched and cogently argued, Damico's revolutionary thesis and supporting documents demand the attention of all serious students of Beowulf."
Kevin Kiernan, author of Beowulf and the Beowulf Manuscript, The Thorkelin Transcripts of Beowulf, Electronic Beowulf and Professor Emeritus, University of Kentucky
"Damico demonstrates that historical allegory need not be a passively reflexive or coyly cryptic mode of poetic invention, but can also serve as an imaginative technique of active political thought and critical analysis."
Craig R. Davis,Professor of English Language & Literature and Comparative Literature, Smith College