Summary
Moving through time and space, Out of Peel Tree unfolds the patterns of an Appalachian sensibility that reverberate everywhere: a fatalism balanced by humor and flinty, hard-won hope, an appreciation for the surprises of the everyday, and a search for love and home amid strange and familiar places and people.
This innovative debut novel reveals the lives of a far-flung contemporary Appalachian family through a web of delicate turning points. A child discovers a grandmother she never knew has died. A runaway teen schemes to start a new life in Texas. A man on parole falls hopelessly in love with a shoplifter. A woman receives a letter about her husband's other wife. An old woman confronts a burglar with the help of her ghost-husband. United by a connection to their matriarch, these characters search at home and beyond to make a fresh sense of their changing lives.
As a novel in stories, Out of Peel Tree brings a new lyricism to the page and a new voice to American and Appalachian literature—a voice deeply inflected by the beauty of the natural world and by working-class grit.
Cast of Characters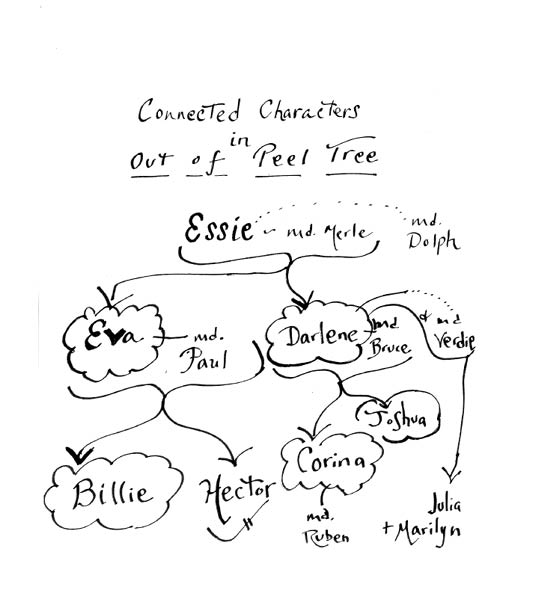 Author
Laura Long has received a James Michener Fellowship, James River Writers Award, Donald Barthelme Fellowship, PEN-Texas Award, Virginia Center for Creative Arts fellowships, and has published in magazines including The Southern Review and Shenandoah. She is the author of two books of poems, Imagine a Door and The Eye of Caroline Herschel: A Life in Poems. She teaches at Lynchburg College in Virginia and has taught in numerous community and university settings in Austin, Houston, and far west Texas.
Reviews
"This is prose as joyful and complex as the joy it describes. Expect to levitate along with the characters."
Leigh Newman, "Books Every Joy-Seeking Woman Should Read," Oprah's Book Club 2.0
"Out of Peel Tree is an amazing book, alive with the enchantments of language and perception. Through one family's experience of love, luck, and the meaning of home, Laura Long's vibrant prose turns barebones, slim-hope existence into something capacious, endowing her characters and their adventures with richness and depth."
Daphne Kalotay, award-winning author of Sight Reading and Russian Winter
"Aside from the gorgeous writing and deeply compelling characters, what I especially value about Laura Long's Out of Peel Tree is its honoring both the region and the literature out of which it springs, at the same time it brilliantly offers a new vision and shines a light on the path ahead. This is a book to be enjoyed immediately and cherished for years to come."
David Huddle, author of Only the Little Bone and The Story of a Million Years
"Like one of her many remarkable characters, Laura Long has the imaginative capacity to "be, in fleeting moments, anything she sees" and she enables the reader to realize, right along with her, the textures of magical realities in a slow, lovely dream: glass-bottomed boats, milagro candles, the feel of the color green--and most of all, the sorrows and joys of an extended Appalachian family in its stunning American diaspora. Out of Peel Tree offers an indelible cultural portrait and a unique literary experience. Laura Long is an astonishing writer."
Tracy Daugherty is the author of four novels, five short story collections, and biographies of Donald Barthelme and Joseph Heller. He has received fellowships from the National Endowment for the Arts and the Guggenheim Foundation.
"Out of Peel Tree is a book of glorious surprises. The unexpected in image and in character, in turns of phrase and turns of plot, awakens its readers not just to fresh perspectives, but even to fresh forms of consciousness. Vivid, sonorous, and wise."
Ann Pancake is the author of Given Ground, a collection of short stories and a novel, Strange As This Weather Has Been.
"Out of Peel Tree is the perfect title for this wonderfully unpredictable collection of restless souls who've been shaken loose from their roots. Laura Long moves fluently through many moods, from poignant and yielding to harsh and bitter and back again. She honors the fragile connections between the members of this farflung family and the people they love (and often leave), and beautifully calibrates the dramas of childhood, old age and the fraught years in between."
Rosellen Brown, author of Before and After and Half a Heart, has published novels, stories, poetry. Her book Cora Fry's Pillow Book is a sequence of poems about a woman's life in small-town New Hampshire.
"Laura Long has eyes like no other. The world she sees has more dimensions than the mundane 3-D world the rest of us inhabit. In her world even dry leaves and red tomatoes and postcards are sentient."
Marie Manilla, author of The Patron Saint of Ugly and Still Life with Plums
"In an elaborate mosaic that is both moving and uplifting, Out of Peel Tree tells the story of three generations of West Virginia women and their survival against the odds. This vivid, compact work is akin to an unforgiving family portrait that reveals everything—warts and all."
Clifford Garstang, author of What the Zhang Boys Know and 2013 recipient of the Library of Virginia Literary Award for Fiction.

"Oh you must read this book! Laura Long, with a poet's eye for sensory details and a storyteller's keen sense of narrative tension, has written a novel ripe with longing. Her characters are fierce and tender, lost and hopeful, and always rooted—even if by the tiniest thread—to their Appalachian heritage. A wondrous read in great gulps, savored sentence by sentence."
Laurie Lynn Drummond, author of Anything You Say Can And Will Be Used Against You, a PEN/Hemingway finalist and Texas Institute of Letters Best Book Award.
"Laura Long writes with such tenderness for her characters, for place, for the natural world. The images shimmer and the links delight. Out of Peel Tree is tatted into the finest lace—delicate, seamless, and strong. Is it any wonder this is a poet's novel?"
Sara Pritchard, author of Help Wanted: Female and Crackpots
"Long is sensitive to the details of life and people. Her themes, characterizations, and story are built on a foundation of symbolism and imagery. She transforms the everyday—butter clogging bread, the shaking of cornflakes, an African Violet plant, wrinkles—into meaning. . . .This kind of layered writing creates the feeling that every word is important. Meaning reveals itself bit by bit, and the book invites a slower reading."
Alicia Sondhi, ForeWord Reviews