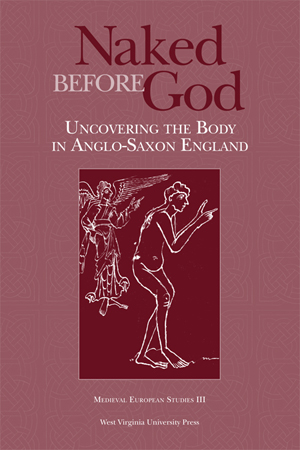 Edited by
Benjamin C. Withers and Jonathan Wilcox
2003
328pp
PB: 978-0-937058-68-8
$45.00
PDF 978-1-935978-37-4
$44.99
PDF (120 Days)
$20.00
Summary
At different times and in different places, the human form has been regarded in different ways. The Ancient Greeks thought it was the most admirable subject for art, whereas early Christians often viewed it as lascivious in our post-lapsarian state. With illustrations taken from manuscripts, statuary and literary, this is a fascinating collection of essays with much that will be new to scholars and general readers alike.
Contents
List of Illustrations
List of Abbreviations
Acknowledgments
Forward: Uncovering the Body in Anglo-Saxon England
Benjamin C. Withers, Indiana University South Bend
Introduction: Medieval Bodies Then and Now: Negotiating Problems of Ambivalence and Paradox
Suzanne Lewis, Stanford University
The Wanton Hand: Reading and Reaching Into Grammars and Bodies in Old English Riddle 12
Sarah L. Higley, University of Rochester
The Key to the Body: Unlocking Riddles 42-46
Mercedes Salvador, Universidad de Sevilla
The Body as Text in Early Anglo-Saxon Law
Mary P. Richards, University of Delaware
The Sacrificial Synecdoche of Hands, Heads, and Arms in Anglo-Saxon Heroic Story
John M. Hill, United States Naval Academy
Nudity on the Margins: The Bayeux Tapestry and Its Relationship to Marginal Architectural Sculpture
Karen Rose Mathews, University of Washington
The Donestre and the Person of Both Sexes
Susan M. Kim, Illinois State University
Exiles from the Kingdom: The Naked and the Damned in Anglo-Saxon Art
Catherine E. Karkov, Miami University, Ohio
Breasts and Babies: The Maternal Body of Eve in the Junius 11 Genesis
Mary Dockray-Miller, Lesley University
Penitential Nakedness and the Junius 11 Genesis
Janet S. Ericksen, University of Minnesota—Morris
Naked in Old English: The Embarrassed and the Shamed
Jonathan Wilcox, University of Iowa
Index
Author
Benjamin Withers of Indiana University at South Bend and Jonathan Wilcox of University of Iowa have assembled one of the most talented groups of young scholars in the field of early medieval studies and asked them to present and explore the evidence for how the human form was regarded by the English before the Norman Conquest.
Reviews
"Naked Before God introduced a refreshing sense of possibilities that are offered by focusing on the multivalence of the body. This is a timely, lively and eclectic collection; the essays complement each other and offer a good variety of perspectives. This is an attractive volume by virtue of the range of—and emphasis on—illustration, and because it provides the reader with some real and provocative choices of interpretations of key texts and images of the period."
Clare Lees, King's College, University of London