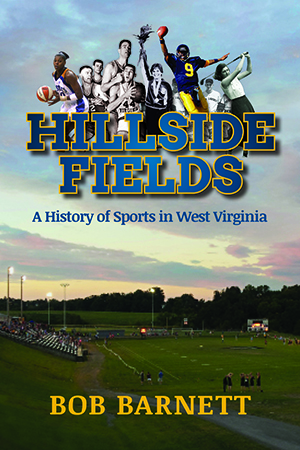 Bob Barnett
May 2013
352pp
PB 978-1-935978-67-1
$22.99
ePub 978-1-935978-69-5
$22.99
PDF 978-1-935078-68-8
$22.99
Summary
West Virginia's championship teams at WVU and Marshall and athletic superstars like Jerry West and Mary Lou Retton are familiar to all, but few know the full untold story of sports in the Mountain State. Hillside Fields: A History of Sports in West Virginia chronicles the famous athletic triumphs and heart-breaking losses of local heroes and legendary teams, recording the titanic struggles of a small state competing alongside larger rivals.
Hillside Fields provides a broad view of the development of sports in West Virginia, from one of the first golf clubs in America at Oakhurst Links to the Greenbrier Classic; from the first girls basketball championship in 1919 to post Title IX; from racially segregated sports to integrated teams; and from the days when West Virginia Wesleyan and Davis & Elkins beat the big boys in football to the championship teams at WVU, Marshall, West Virginia State and West Liberty. Hillside Fields explains how major national trends and events, as well as West Virginia's economic, political, and demographic conditions, influenced the development of sports in the state. The story of the growth of sports in West Virginia is also a story of the tribulations, hopes, values and triumphs of a proud people.
Contents
Acknowledgements
Introduction
Baseball Comes to West Virginia: A History of Minor League Baseball in the Mountain State
Oakhurst Links: From the First Golf Club in America to the Greenbrier Classic
The Beginning of Football in West Virginia: The First Three Decades, 1891–1919
Davis & Elkins Beats Navy: The Rise of College Football in the 1920s
West Virginia's Separate but Equal Basketball Tournament
West Virginia University and Marshall College: National College Basketball Champions
West Virginia State College: National Champions
The 1950s: The Golden Age of West Virginia University Athletics
No Field of Dreams—Not Even a Field: West Liberty's Golden Baseball Season
West Virginia Intercollegiate Athletic Conference Basketball: 1935 –2013
The Girls' Turn To Play: From the First State Basketball Tournament in 1919 Through Title IX and Beyond
Ashes to Glory: Marshall Football—1960 to We Are Marshall
A Major Leads His Army: West Virginia University Football, 1960 through the Don Nehlen Years
A History of High School Sports in West Virginia
Epilogue: Sports in West Virginia, 2011
Bibliography
Index
Author
Bob Barnett taught sport history at Marshall University in West Virginia for 35 years. He has published over 300 articles in publications such as Saturday Evening Post, American National Biography, the Washington Post, Sports Heritage, and the Dallas Cowboy News, has been a section editor for the Journal of Sport History and the Encyclopedia of Appalachia, and has written two documentaries for West Virginia Public Television. Barnett is the author of Growing Up in the Last Small Town: A West Virginia Memoir.