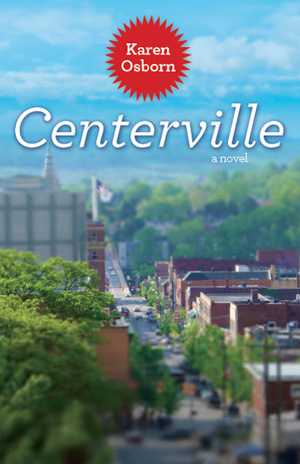 Karen Osborn
October 2012
192pp
PB 978-1-935978-64-0
$16.99
ePub 978-1-935978-65-7
$16.99
PDF 978-1-935978-66-4
$16.99
Purchase the Kindle Edition at Amazon
Summary
It is 1967 at the end of a long, hot summer. On a Saturday afternoon in Centerville, a sleepy Midwestern town, a disaffected husband enters a busy drugstore where his estranged wife works and sets a bag with a homemade bomb on the floor. Outside the drugstore, a fourteen-year-old girl places her hand on the door, then inexplicably turns away and keeps walking. Moments later, standing safely inside a bowling alley with her best friend, she hears a sound like thunder.
With one devastating explosion, the town is changed forever. In the next few days, four lives become entwined, as the townspeople face sudden loss and new, unpredictable realities.
Set against the backdrop of the Civil Rights Movement and the escalating Vietnam War, Centerville forms an engrossing meditation on the complex questions that arise in the wake of senseless violence.
Learn more about Karen Osborn at www.karenosborn.net.
Author
Karen Osborn is the author of three previous novels, Patchwork (a New York Times Notable Book of the Year), Between Earth and Sky, and The River Road. She lives in Amherst, Massachusetts with her husband and teaches fiction writing at Mt. Holyoke College and Fairfield University. While growing up in the Midwest, she witnessed a bombing and the resulting conflagration in her small town.
Learn more about Karen Osborn at www.karenosborn.net.
Reviews
"A unique novel of smalltown America that begins with an explosion so wonderfully described you won't be able to put the book down. Karen Osborn combines considerable literary gifts with a storyteller's skills to produce the unforgettable Centerville."
Anita Shreve, Resistance, The Weight of Water, and Rescue
"Karen Osborn's deeply affecting novel Centerville keeps the incomprehensibility of evil always in focus, as her characters—young, old, brave, cowardly, driven by doubt, and committed to faith—struggle to find a way back to the innocence they once took for granted. In this subtle, beautifully written novel, the reader can almost hear the gates of paradise slamming closed on the American dream."
Valerie Martin, Trespass, Mary Reilly, Italian Fever, Property, and Salvation.
"Most writers would stumble over the top describing a blast that literally explodes the personality of a small town. In the hands of a master of craft, like Karen Osborn, devastation is rendered with devastating restraint. You may try to forget Centerville, but you never will."
Jacquelyn Mitchard, The Deep End of the Ocean
"A novel that seems as if its subject isn't past at all but rather pulled right from America's latest cycle of mass murder and senseless carnage, a novel of brilliant prose and deep insight into the dark alleys of our twisted nature. . . . As with In Cold Blood or The Sweet Heareafter, Karen Osborn's beautifully written Centerville uses a single, horrific, smalltown act of violence to dissect the values and morals of an entire culture—a culture that is at once violent and brutal, materialistic and superficial, yet capable of moments of heroism, compassion, and redemption."
Michael White, author of Beautiful Assassin and Soul Catcher
"Osborn's powerful novel, set during the dog days of summer in a small Midwestern town in 1967, begins with a bang when a man bombs the drugstore employing his estranged wife. The tragedy devastates a community just beginning to feel the repercussions of the escalating Vietnam War and the growing civil rights movement, and Osborn focuses on four individuals to map the intersections of local drama and a world in upheaval. Already troubled by decisions confronting members of his flock, a minister falls from grace when the presumed dead bomber surreptitiously seeks his counsel. The minister's own daughter narrowly escaped the bombing, a coincidence that leaves her confused and ignites her adolescent anger and angst, framing her as a compelling window into the '60s youth movement. The druggist's widow quells her grief with an act of redemptive creation, and a policeman desperately hunts the bomber, all the while struggling to train the force's first black officer amid an atmosphere of casual racism. Osborn, employing a restrained ruthlessness, maintains the tension throughout, and appropriately refuses easy outs for a satisfying conclusion."
Publishers Weekly
Osborn opens her novel in a small, quaint, Jan Karon-style town in 1967, then has a vengeful ex-husband set off a bomb in the drugstore where his former wife works. Centerville is quickly transformed into a devastated community of residents trying to understand how this could have happened and figure out how to put their lives back together. The story is told from the points of view of four survivors: the reverend who married the murderer and his wife years ago; his teenage daughter, who almost entered the drugstore at the time of the disaster; a victim's widow, who now has three children to raise on her own; and a police officer who was at the scene of the tragedy. VERDICT Lovers of realistic fiction will be pulled into this tiny town to experience its loss and confusion along with its residents. Osborn portrays the emotions surrounding this destructive event in a heartfelt and vivid style, while leaving room for the hope of regrowth and recovery."
Katie Wernz, Kent State University, for Library Journal
"Luckily, Centerville, a new novel by American author Karen Osborn, has been published at just the right time to remind us that sometimes the out-of-the-ordinary is what fiction needs. Centerville takes an idyllic Midwestern town in 1967 and drops a bomb into it—a downtown drugstore explodes in the middle of the day, killing many and changing everyone. Osborn introduces us to the citizens of Centerville after the tragedy, once their lives have been atomized, and she wisely leaves us to imagine the peace that existed before. The characters—a young widow, a police officer, a reverend, a young girl who considered going into the drugstore moments before the explosion but walked away instead—are all introduced to us at the same time that they're forced by terrible circumstances to become different people. As a metaphor for the '60s in America, it's appropriate, and it doesn't feel heavy-handed. As a meditation on everyday violence, it's affecting. ('Sometimes one of them would have a weapon, but this guy didn't,' a police officer recalls of his not-too-far-away time fighting the Vietcong. 'He had these thin arms that felt like they could break under my hands.') As a novel, it's brief, startling, and successful. Osborn, it seems, is more McEwan than McEwan these days."
Paul Constant, The Stranger