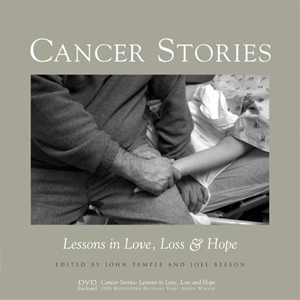 Edited by
John Temple and
Joel Beeson
Introduction by Jennifer Roush
2004
219pp
HC/J 978-0-937058-88-6
$39.95
Summary
Cancer Stories: Lessons in Love, Loss, and Hope gives a personal, in-depth look at people battling cancer and the friends and relatives who care for them. This book offers a poignant look at their lives and the effect that cancer has on them. Cancer Stories was the result of the Cancer Project sponsored by the Perley Isaac Reed School of Journalism at West Virginia University where journalism students were paired up with cancer patients in order to learn about their experiences. The large format book contains a series of photo essays and stories written in a narrative, highly accessible style. It is a must read for anyone interested in how cancer patients and their friends and relatives are able to find wonder and hope in one of life's most trying ordeals. Also included is a DVD of the award-winning documentary that inspired the book.
Table of Contents
Foreword
Christrine Martin
Introduction
Jennifer Roush
He Keeps Going
Grant Smith, photographs by Melissa Nethken
Reconstruction
Ivy Smith, photographs by Lingbing Hang
As the Legacy Descends
Jennifer Roush, photographs by Karina Gomes Dick
Vernon M. Knode III
Eunice Rohrere
Banana Bread
Jan Lauren Boyels, photographs by Barbara Griffin
The Junction
Katie Stout
Remission
Kelly Carr, photographs by Barbara Griffin and Melissa Nethken
Stubborn Enough
Pam Kasey, photographs by Courtney Balestier
Listening for Cancer Stories
David G. Allen
Author
John Temple and Joel Beeson are Assistant Professors of Journalism at the The Perley Isaac Reed School of Journalism at West Virginia University. Temple teaches news and feature-writing courses and heads the News-Editorial sequence. He is a creative nonfiction author and a former staff writer for the Tampa Tribune. Beeson's specialty area is visual journalism. He has an MA from the University of Missouri-Columbia School of Journalism and is doing doctoral work on social documentary and new media with marginalized communities.
Reviews
"Cancer Stories is a truly collaborative project, bringing together journalism students, cancer patients, physicians, nurses, and other health care providers. It provides an accurate, honest and occasionally heartbreaking look at what it means to have cancer."
Dr. Eddie Reed, former director, Mary Babb Randolph Cancer Center