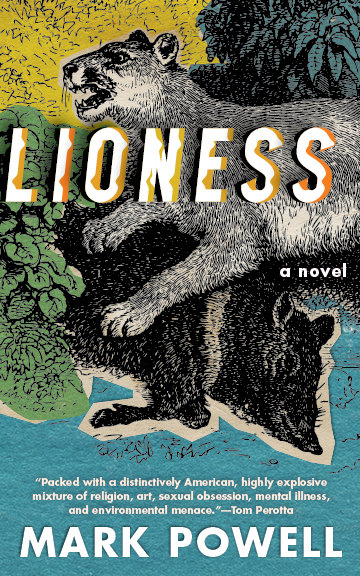 Mark Powell
Available now!
April 2022
304pp
PB 978-1-952271-44-1
$21.99
eBook 978-1-952271-45-8
$21.99
Lioness
A Novel
Summary
In the fall of 2018, a bomb goes off at a water-bottling plant in the mountains of southwest Virginia, an incident the FBI declares an act of ecoterrorism. Arrested at the scene is Chris Bright, a mountain hermit with a long history of activism. Unaccounted for—and presumed dead—is Mara Wood, an installation artist who in the last two years has lost her son and left her husband.
But Mara's estranged husband David cannot quite believe she is dead, and as he goes about reconstructing the story of what happened, he begins to imagine an alternate narrative—one in which their son doesn't die and his wife doesn't leave him, one in which his wife doesn't carry on a secret relationship with Chris Bright, a man bent on fighting back against the environmental despoliation of his Appalachian home. Lioness is a page-turning, heart-wrenching examination of extremism: What pushes people to act violently, and is that violence ever justified?
Author
Mark Powell is the author of seven novels and has received fellowships from the National Endowment for the Arts, from the Bread Loaf and Sewanee Writers' Conferences, and twice from the Fulbright Foundation, to Slovakia and Romania. He directs the creative writing program at Appalachian State University.
Reviews
"Emotionally wrenching. . . . Haunting (and haunted) in the best possible way."
Kirkus Reviews (starred review)
"Powerful and layered, this is a tour de force . . . dark, moody, and mesmerizing."
Foreword Reviews (starred review)
"He writes about difficult things in a beautiful way, reminiscent of Cormac McCarthy. . . . Powell's love for his native turf comes through tangibly."
Barbara Bennett, North Carolina Literary Review
"Lioness is a darkly compelling portrait of an artist who evolves into a homegrown ecoterrorist. Mark Powell's brooding, twisty novel is packed with a distinctively American, highly explosive mixture of religion, art, sexual obsession, mental illness, and environmental menace."
Tom Perrotta, author of Tracy Flick Can't Win and The Leftovers
"The best Appalachian novelist of his generation."
Ron Rash, author of Serena and In the Valley
"Mark Powell's Lioness is a force of nature: moody, twisty, stormy, and supercharged with the fierce blue voltage of top-notch storytelling. It's a riveting ecothriller that's also a profound exploration of grief—grief for one another, and grief for the earth. What a powerful novel."
Jonathan Miles, author of Anatomy of a Miracle
"A thriller with quickness and elegance, Lioness asks tough questions about our responsibilities to the natural world and to one another. In offering no easy answers, it achieves something beautiful and haunting. Mark Powell has written a gorgeous, enthralling, immensely readable novel that will hook you until the very last page."
Kayla Rae Whitaker, author of The Animators
"Mark Powell's Lioness is an immersive rendering of the human quest for love and healing amidst a world on fire—a fire we have set and cannot tame."
Annette Saunooke Clapsaddle, author of Even as We Breathe
"In this haunting novel of passion and intrigue, Mark Powell takes on the environmental collapse coming at us and the people driven to action. Powell is a writer with mountains of talent, and here he creates complex and fascinating characters trying to figure a way out of grief and despair. Even love is sometimes violent."
Janisse Ray, author of Wild Spectacle: Seeking Wonders in a World beyond Humans
"Lioness takes the reader on a cross-country journey that is as much spiritual and psychological as it is physical. Mark Powell's powerful descriptions capture the grief, love, and despair of his characters as they move through a land that's been wrought by environmental degradation and an ever-changing climate."
Jessica Cory, editor of Mountains Piled upon Mountains: Appalachian Nature Writing in the Anthropocene