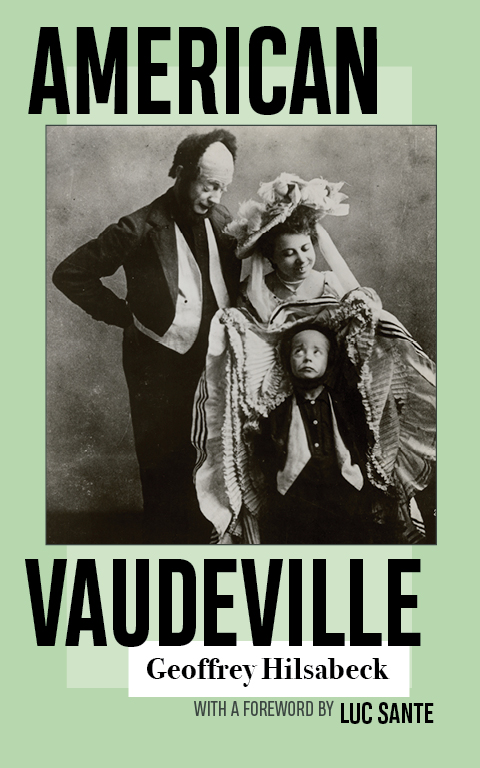 Geoffrey Hilsabeck
Available now!
July 2021
160pp
PB 978-1-952271-06-9
$19.99
eBook 978-1-952271-07-6
$19.99
In Place Series
American Vaudeville
Summary
At the heart of American Vaudeville is one strange, unsettling fact: for nearly fifty years, from the late nineteenth century to the 1930s, vaudeville was everywhere—then, suddenly, it was nowhere. This book tells the story of what was once the most popular form of entertainment in the country using lists, creation myths, thumbnail biographies, dreams, and obituaries. A lyric history—part social history, part song—American Vaudeville sits at the nexus between poetry, experimental nonfiction, and, because it includes historic images, art books.
Geoffrey Hilsabeck's book grows out of extensive archival research. Rather than arranging that research—the remains of vaudeville—into a realistic picture or tidy narrative, Hilsabeck dreams vaudeville back into existence, drawing on photographs, letters, joke books, reviews, newspaper stories, anecdotes, and other material gathered from numerous archives, as well as from memoirs by vaudeville performers like Buster Keaton, Eva Tanguay, and Eddie Cantor. Some of this research is presented as-is, a letter from a now forgotten vaudeville performer to her booking agent, for example; some is worked up into brief scenes and biographies; and some is put to even more imaginative uses, finding new life in dialogues and prose poems.
American Vaudeville pulls the past into the present and finds in the beauty and carnivalesque grotesqueness of vaudeville a fitting image of American life today.
Contents
Foreword
Creation Myths
Vanishing Act
Just What Was Vaudeville?
At the Wonderland
Dreamsweat
Jacks-in-the-Pew
Bright Particular Star
The Jonah Man
The Muting of the Strings
Obituaries and Obsolescencies
The Playhouse
History
Acknowledgments
Notes
Sources
Illustration Credits
Author
Geoffrey Hilsabeck is the author of the poetry collection Riddles, Etc. His poems and essays have appeared in the New York Times Magazine, the Believer, Paris Review Daily, Tupelo Quarterly, and elsewhere. He lives in Pittsburgh.
Reviews
"Hilsabeck is intuitive, canny, penetrating, and wise, and he has absorbed and can play all the tones in the vast calliope of the American language. American Vaudeville is a short book, but it is dense with evocation, each sentence expanding to fill the room. You will read it more than once."
From the foreword by Luc Sante
"Hilsabeck's essays excavate vaudeville's archival remains, reveling in its greasepaint and slap shoes, boas and tightropes. He does not shy away from vaudeville's ranker bits—its controlling monopolies and its racism and the ways it could, and did, devour its own. But neither does he short-sell its beauty. Rather, in these pages, transcendent artifice and wonderment ride in tandem with the tragic and tawdry, and all of it is shot through with the gloriously absurd. One comes away from Hilsabeck's deeply researched work with a sense of history as spectacle, and spectacle as history. Like the stages that are his concern, Hilsabeck's linked, lyric essays 'would tell the story of America to America'—'what we were, which is what we are.' "
Tina Post, University of Chicago
"Geoffrey Hilsabeck recounts the often bizarre details of vaudeville, the most popular live entertainment in the United States at the turn of the twentieth century, and, more importantly, he evokes the feeling of this eclectic, rapid-fire amusement. Hilsabeck gives vaudeville new life, from its physical immediacy to its ethereal reach."
M. Alison Kibler, author of Censoring Racial Ridicule: Irish, Jewish, and African American Struggles over Race and Representation, 1890–1930
"Hilsabeck brings the seedy, magical world to life while unraveling its sudden death."
Broadway Direct